The VIY3-300 ground penetrating radar (GPR) is the main workhorse for deeper than sub-surface imaging. It is designed to map out foundations of buildings, basements, crevices in the ground, pipelines, cables, and sub-surface oil contamination. It is used for location and analysis of underground anomalies using electromagnetic pulse radiation. Operation principle of the GPR is based on surveying media illumination by electromagnetic impulses with following echoes analysis because of impulse reflection or scattering by various discontinuities. The GPR is suitable for searching of both metal and dielectric targets (stratiform structures, pipes, voids, building constructions etc.).
| | |
| --- | --- |
| Models Available | Additional Feature(s) |
| VIY3-300 | Base Model |
| VIY3-300i | Built In Inclinometer |
| VIY3-300w | Built In Wifi Connection |
| VIY3-300iw | Built In Inclinometer, Built In Wifi Connection |
Most Useful for: Construction, environment, communication (0-8m depth):
Search for local facilities (pipelines, cables);
A survey of engineering structures (building foundations, basements, etc.);
Search for buried waste and graves;
Location of underground excavations, karst and suffusion failures;
Determination of boundaries of petroleum contamination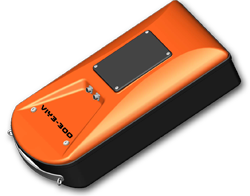 Basic applications:
Engineering and communication objects searching
Engineering construction examination (building basis, dams, etc.)
Man-caused accident areas investigation
Underground anomalies searching (voids, breaks, foreign inclusions, weak rocks)
Search of liked sources from pipes. By Indirect attributes (area of the raised humidity)
Peculiarities
Monoblock design – all GPR modules are arranged all together into a single case, which is connected to computer via USB2 communication cable.
Spectrum randomizing (quasi-random sampling sequence) – interference immunity improvement especially to coherent influences
Increased dynamic range owing to digitally stacking of received signals
Real time signal pre-processing
Low power consumption – at least 8 hours working session without charging necessity
The VIY3-300 GPR specifications:
Antenna frequency: 300 MHz
Analogue-to-Digital Converter range: 18 bit
Dynamic range: at least 135 dB
Measuring rate: up to 55 traces per second
Survey window: 66, 100, 133, 166 ns
Maximum number of samples per trace: 1000
Trace stacking number: up to 128
Depth of sounding: up to 8 m (determined by soil properties)
Spatial resolution: better than 0.3 m
Operating modes: point collection, continuous, measuring wheel
File size of a single profile: up to 2 GB
Interface: USB2
Dimensions (L x W x H): 610 õ 312 õ 170 mm
Weight: 8.4 kg
Operating temperature range: -10°Ñ to 40°Ñ
Operating time: at least 8 hours
Included Accessories:
AB3- 300 – 300 MHz frequency antenna unit with digital output and built-in battery.
Charger – Charger for the battery.
D Cable 3 – Data cable, 3 meters length.
TB-3 – Transport belt.
User Manual.