The VIY3-700 ground penetrating radar (GPR) is used for finding sub-surface faults in roads and is used to look at what is behind walls. It is extremely small and can be used as a cart or just with one hand. It is used for location and analysis of underground anomalies using electromagnetic pulse radiation. The GPR VIY3-700 is suitable for searching of both metal and dielectric targets (pipes, voids, building constructions etc.).
| | |
| --- | --- |
| Models Available | Additional Feature(s) |
| VIY3-700 | Base Model |
| VIY3-700i | Built In Inclinometer |
| VIY3-700w | Built In Wifi Connection |
| VIY3-700iw | Built In Inclinometer, Built In Wifi Connection |
Most Useful for: Building, road construction (0-2.5m depth):
Search for hidden breaches in the walls of terrestrial plants, mines, tunnels, towers and floors;
Search for violations in the construction of roads, runways;
Search for voids, hiding places, foreign inclusions.
Basic applications: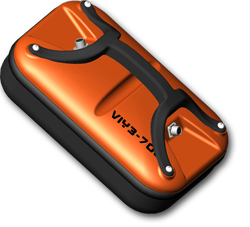 Engineering and communication objects searching
Engineering construction examination (building basis, dams, etc.)
Man-caused accident areas investigation
Search of reinforcement rods in building unit
Search of hiding places and other building in objects
Peculiarities
Monoblock design – all GPR modules are arranged all together into a single case, which is connected to computer via USB2 communication cable.
The accumulator is in a backpack at the operator that has facilitated the measuring module
Transportation by a belt (on a ground) and for the handle (on a wall) is possible
Spectrum randomizing (quasi-random sampling sequence) – interference immunity improvement especially to coherent influences
Increased dynamic range owing to digitally stacking of received signals
Real time signal pre-processing
Low power consumption – at least 8 hours working session without charging necessity
The VIY3-700 GPR specifications:
Antenna frequency: 700 MHz
Analogue-to-Digital Converter range:  18 bit
Dynamic range: at least 135 dB
Measuring rate:  up to 55 traces per second
Survey window: 16, 24, 32, 40 ns
Maximum number of samples per trace: 1000
Trace stacking number: up to 128
Depth of sounding: up to 2.5 m (determined by soil properties)
Spatial resolution: better than 0.12 m
Operating modes: point collection, continuous, measuring wheel
File size of a single profile: up to 2 GB
Interface: USB2
Dimensions (L x W x H): 311 õ 176 õ 152 mm
Weight: 3.0 kg
Operating temperature range: -10°Ñ to 40°Ñ
Operating time: at least 8 hours
Included Accessories:
AB3 – 700 – 700MHz frequency antenna unit with digital output.
Battery Box – External box for the battery
Charger – Charger for the battery.
D Cable 3 – Data cable, 3 meters length.
TB-3 – Transport belt.
User Manual.